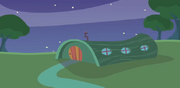 Flippy's home is a half log that is green with a hangar where he keeps his military vehicles. He is also shown to be pretty well off as his house is filled with trophies, statues, suits of armor, and a widescreen TV.
His home, like most other homes, consists of a living room, office, bedroom, bathroom and a kitchten. The walls are mainly green, and a rather odd feature is his references of the war in his house even though he is trying to manage his PTSD.
His hangar contains his military car and a few weapons in case of emergency.
Residents
Edit
In dimension 1 he lives in his house with Nutty.
In dimension 2 he lives alone.
In dimension 4 The Mole is there.
Appearances in Episodes
Edit