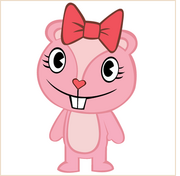 Character Bio
Edit
Giggles is a pink chipmunk who has a white diamond-shaped marking, a white oval on her torso, and wears a big red bow on her head.
Her deaths usually involve being crushed, her chest or her head.
Personality
Edit
Giggles acts like a typical sweet "girly" girl, as she enjoys frolicking through flowers, having tea parties with Petunia, ice skating, and having a sweet demeanor. Her name comes from her habit of giggling often.
Her favorite color is pink and she currently loves it.
HTF Dimensions info
Edit
Giggles is in all dimensions.
Starring Roles
Edit
Featuring Roles
Edit
Appearances
Edit
Sparks will Fly - Decapitated by Flippy
Flightplan - Flies out of plane
Remain Seated - Hit by roller coaster
Dark Ride - Neck snapped by Snuffly
Porcupines in Crime - Drowns in Splendid's vomit
Additional
Edit