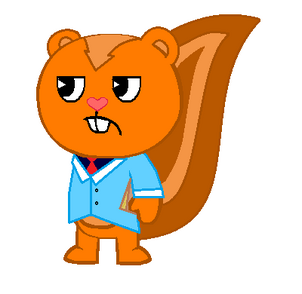 Preachy is a character in the HTF Dimensions world. He is created by Spngebobfan123.
Character Bio
Edit
Preachy is an orange skunk who is extremely religious and often forces his morals onto others. He is a annoyance to other tree friends because most of Preachy's time is spent telling others what they are doing wrong. He does has a few friends but they are likely just as religous as he is. He is the pastor at his church, the Saints of Tree Town.
Personality
Edit
Preachy is a very set in stone moralist and follows his religion very strictly. He believes in keeping children pure and away from television and internet. He is also a traditionalist and hates gay marrige often attacking those who are or support it. He is stereotyped and based on followers of the real life Westboro Baptist Church.
Starring Roles
Edit
Featuring Roles
Edit
Appearances
Edit
Flightplan - Flies out of plane.
Concrete Solution - Falls off bridge