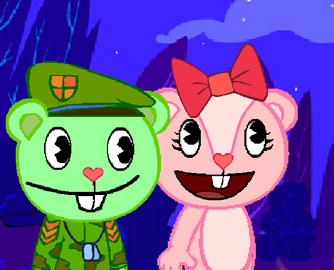 Sparks will Fly is the second love bites of HTF Dimensions.
Featuring
Edit
Appearances
Edit
-
A bunch of couples are on a hill at nighttime and Flippy and Giggles are also there looking up at the sky. Suddenly a fireworks show starts and as loud booming begins and we see Flippy change into Evil Flippy.
After the tagline, we see Evil Flippy breathing heavily, surrounded by corpses, with some blood on him.
Sparks fly between us Valentine!
Giggles is decapitated.
Flaky's head is bashed in by a rock.
The Lizard probably dies of blood loss.
Truffles is lying on the ground dead though not bloody.