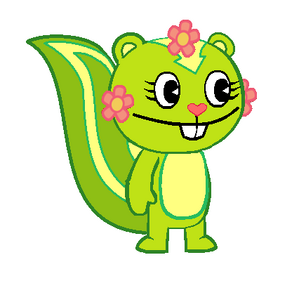 Sticky is a green skunk that appears in only the fourth dimension. She is Nutty and Petunia's daughter.
Sticky is a green skunk with flowers stuck to her face. Her name comes from the fact that her mother, Petunia, is always giving her baths. She enjoys the outdoors and likes hanging out with her friends. She surprisingly likes walking through the town's center, instead of being nature-centered like her mother. She is usually shown in most tree friends' age, but in some episodes we see her as a baby like Cub.
Her deaths can involve her brain, getting decapitated or getting stabbed.
Starring Roles
Edit
Featuring Roles
Edit
Appearances
Edit
TBA
Can't Stop Coffin - Smashed by a gravestone.
Stealing the Spotlight - Upper body explodes from heat.
TBA
Like Nutty, she has items stuck to her face, but they are flowers instead of candy.